THE PREDICTIVE INDEX
Backed by nearly 70 years of science, Predictive Index is driven by people data. When business leaders measure people data, they're empowered to make objective decisions rather than subjective ones. While it's true that people are complex, that's no excuse to just accept the status quo. With the right people data in hand, Predictive Index reveals the way people behave and interact in organizations is in fact predictable given the business context.
Predictive Index is a web-based solution that allows you to collect, analyze, and apply predictive data to your most critical business challenges on demand. We also offer robust integrations to industry-leading human resource information systems (HRIS) and applicant tracking systems (ATS) to automate the process of applying workforce analytics more easily.
The Predictive Index Solution is not just an assessment; it is part of a philosophy that changes how companies think about talent.
THE PREDICTIVE INDEX
Attract, Hire, & Select Best-Fit Candidates
Retain Top Talent
Build Employee Engagement
Strengthen Teams & Culture
Leverage Organizational Effectiveness
Increase Productivity & Job Satisfaction
Discover & Develop High-Potential Leaders
Resolve Conflict
Manage Change
Cultivate & Empower Successful Managers
Design & Achieve Effective Re-Organizations
Navigate Successful Mergers & Acquisitions
Execute Succession Planning
Optimize Exit Strategies
People-related issues can tear at the fabric of a company, eating away at even the most solid foundation built on the best products or services. On the talent acquisition front, making a bad hire can cost you through potential earnings, replacement costs, ineffectiveness, or worse, as a drain on morale. From a management perspective, ineffective leadership can result in stagnant growth, bungled initiatives, and even corporate collapse. Attrition, team dysfunction, failed acquisitions or strategic initiatives, and lack of productivity are all directly attributable to lack of leadership, mismanagement of people, and/or not putting the right people in the right roles.
Find out more about the predictive index
Every good business has a strategy that demands results. What stands between success and failure is in the hands of its people. Talent optimization is a discipline that provides business leaders with a framework and tools to design culture, roles, and teams that maximize business results.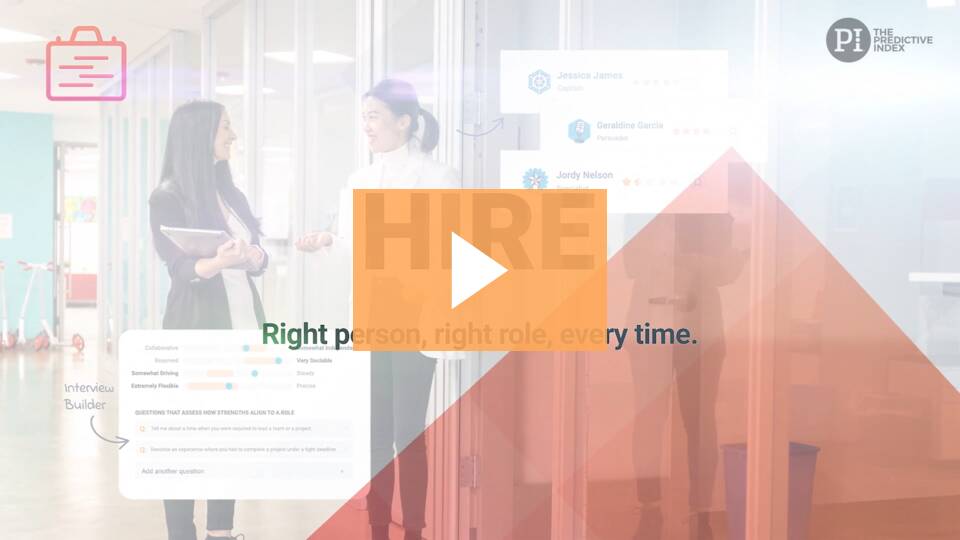 Hire
The ability to hire well sets the stage for future organizational success. Defining the roles an organization needs and matching the right person to the requirements of the job boosts the opportunity for success.
DESIGN
Businesses can't just put a random assortment of people together on a team and hope for the best. To achieve the best outcome, an organization must leverage people data to deliberately design its approach to leadership, culture, and team dynamics.
Science
The Predictive Index continuously conducts research ensuring their assessments are work-related, free of bias, valid, and reliable. All assessments were created in accordance with Equal Employment Opportunity Commission (EEOC) Guidelines, as well as the professional standards established by the American Psychological Association (APA) and the Society of Industrial & Organizational Psychology (SIOP).
Experience
The Predictive Index was founded in 1952 as an early player in the field of workforce analytics. There are over 8,500 clients around the world. PI is available in over 80 languages. More than 35 million people have taken the assessment, 3 million in the last year.
Methodology
Our approach integrates data, knowledge transfer, expertise, and technology, creating subject matter experts within your organization, delivering insights and tools that you can use to make a difference.
Applicability
All our solutions add value regardless of industry or company size. The Predictive Index can be used in hiring/talent acquisition, talent development, change management, talent optimization and leadership development, as well as growth strategies.
Practicality
All assessments are easy to complete and take approximately 6-12 minutes. Results are presented in a visual format with written reports available, as well, enabling immediate interpretation of results.
Simplicity
Pricing is based on a simple annual subscription, making it extremely flexible and highly cost-effective. Clients enjoy unlimited use of the assessment without the complexity of cost-per-click models.
Expertise
Nast Partners advance your company's analytical capabilities and provide actionable insights that help you make better decisions faster.